27 août 2009
4
27
/

08
/

août
/

2009
17:01


V. Aniversário de l'Academia Cazuá à Bremen du 15 au 18 octobre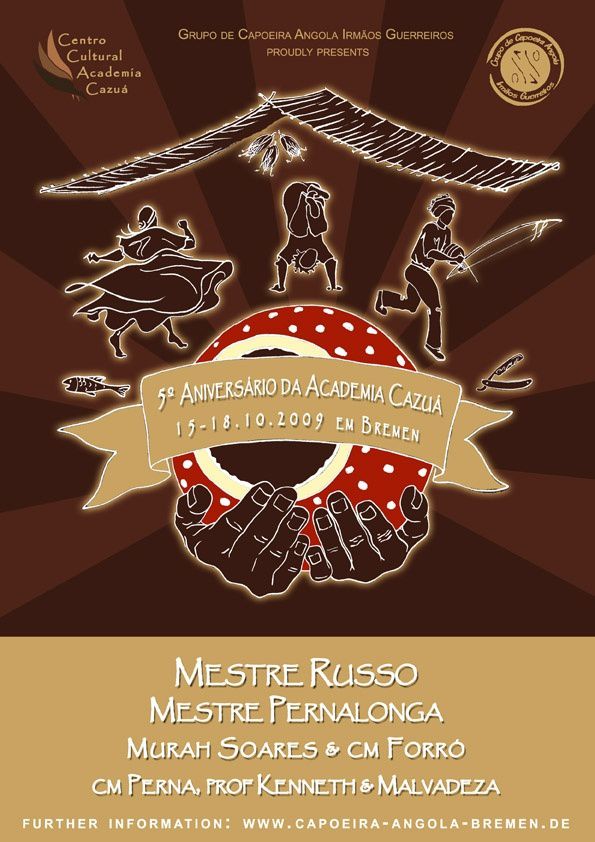 Parabéns, one more time! One year full of capoeiragem & afro-brazilian culture in our "Academia Cazuá" in Bremen has passed by and our cultural centre is ready for its 5th birthday!
As every year we would like to invite you to celebrate the "Cazuá's" birthday together with us, from 15th to 18th of October 2009, as always with a lot of capoeira, rodas, music, tambor de crioula and samba de roda.
As some of you may know we had planned and been looking forward to inviting Mestre Fernando from Salvador to our Cazuá. Unfortunately, for organizational reasons his participation is no longer possible. We are sorry for these changes.
But: We are happy to present Mestre Pernalonga from the group "Nova Geracão de Angola" from São Paulo . M. Perna is CM Perna's musical partner and they will make the "Life CD release" of their new CD "O que no tempo se destina", which they recorded last year in São Paulo .
Mestre Russo from the famous "Roda de Caxias" in Rio de Janeiro shows the Brazilian street roda culture.
The Afro-Cultural rhythms from Brazil are taught by Contra Mestre Forró from Rio (Mestre Marrom).
Murah Soares from Berlin shows and teaches the Afro-Brazilian dance.
Profesor Kenneth (Irmãos Guerreiros / Vienna ) represents the Group Irmãos Guerreiros from Vienna .
Profesora Malvadeza (Irmãos Guerreiros / São Paulo / Bremen ) is one of Contramestre Pernalonga's students from São Paulo , representing his work in Brazil .
Contramestre Pernalonga (Irmãos Guerreiros / São Paulo / Bremen ) has been teaching capoeira in Bremen for 8 years. Five years ago he started his cultural work in the "Cazuá", which is an ancient and religious word for house. The "Cazuá" is an Afro-Brazilian cultural centre where besides Capoeira Angola Contramestre Pernalonga teaches a variety of Afro-Brazilian culture.
Venham vadiar na varando do Cazuá!
Date: Thursday, 15th of October to Sunday, 18th of October 2008
Where: Bremen - Germany
Adress: Academia Cazuá
Auf der Muggenburg 7
28217 Bremen
Transport: Within Bremen , there is very good public transport to reach the Cazuá and the sleeping places.
Airport Bremen (good Ryanair connections) to Cazuá: 15 minutes
Train station Bremen to Cazuá: 15 minutes
Arrival:
The registration starts on Thursday, 12am at Cazuá. For the following days the registration will also be at Cazuá. Training begins at 2pm on Thursday.
If you arrive before Thursday or need to stay longer than the workshop please tell us in advance in order to arrange sleeping places.
Accommodation:
All our guests can sleep at the youth centre "Walle". There is a kitchen facility, toilets and bathrooms.
Please don't forget to bring a sleeping bag & a sleeping pad, there are no sleeping pads available in Walle.
Breakfast and dinner will be prepared in the youth centre.
Programme:
There will be several trainings during the day and a roda in the evening. On Saturday evening we will have a Brazilian Party with "Música brasileira ao vivo", Reggae, Forró, Samba and a lot more….
Costs:
The fee is 95€ for all 4 days, including accommodation & breakfast.
3 days – 85€ (incl. breakfast and a T-Shirt)
2 days – 65 € (incl. breakfast)
1 day – 35€ (incl. breakfast)
Only Afro-Brazilian dance classes: 15€ per lesson
Early registration: For the "early birds" among you, that already want to register and transfer the fee, we offer the "early bird fee" of 85€ for the 4 days participation. For more information please contact Nina.
Training clothes:
Please bring long trousers, T-Shirts and sports shoes without black soles. For the girls, if possible please bring a skirt for the "samba de roda" on Saturday evening.
Contact:
Contramestre Pernalonga
pernabd@yahoo.com.br
Tel. : +49 173 9111 447
Raphael Stöcklin (Duende)
rapha@uni-bremen.de
Tel. : +49 176 8327 6311
Nina Kulling (Furadinha)
nkulling@hotmail.com
Tel. : +49 170 418 94 80
We are looking forward to welcoming you at Cazuá!
CM Pernalonga & students